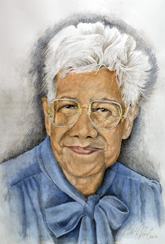 A Short Biography
Morrnah Nalamaku Simeona was born May 19, 1913 in Honolulu, Hawaii. She was a Kahuna La'au Lapa'au (healer with herbs) and a naturopath, and later, practiced and taught Lomi Lomi Nui massage. She ran her practice for ten years at the Kahala Hilton and Royal Hawaiian Hotel (Ref. Morrnah Simeona, kahuna lapa'au, Honolulu Advertiser, p. C4, Feb.17, 1992), before she exclusively brought her Ho'oponopono into the world.
In 1983 she was honored by the 'Honpa Hongwanji Mission of Hawaii' with the title 'Living Treasure of Hawaii'. Morrnah died on February 11, 1992 in Kirchheim near Munich, Germany
.
Morrnah's popularity in Hawaii is also expressed by the fact that she was named 'great aunt' for many Hawaiians, above all the indigenous community – but it does not mean that those who use it are / become actual familial relatives.
Morrnah Simeona did NOT learn Ho'oponopono from Mary Kawena Pukui, who was a renowned scholar of Hawaiian language and culture, who defined Ho'oponopono in her dictionary. Morrnah knew the traditional Ho'oponopono. Her renewal of this traditional process, is an universal version that she developed and eventually finalised, came exclusively from her.

Universal Ho'oponopono
Morrnah gave many lectures and in 1983 gave seminars on Ho'oponopono at the United Nations, in a dozen states in the US and in more than 14 countries, ncluding Germany, France, Japan, the Netherlands, Russia and Switzerland (Ref US Senator Daniel Akaka, In Memory of Morrnah Nalamaku Simeona, Congressional Record, Proceedings and Debates of the 102d Congress Second Session, Vol. 138, No. 43 of March 25, 1992) as well as at colleges, hospitals, religious institutions and businesses.
One reporter remarked,"There was something very reassuring and relaxing through Simeona's presence alone;and when she talked about teaching people how to relieve stress and gain inner peace, there was a natural sincerity in her voice."
To spread her Ho'oponopono, she founded her first 'Pacifica Seminars' in the mid-1970s and the Foundation of 'I' Inc. in 1980, converted her first 'Pacifica Seminars 1986 in a corporation and founded her third 'Pacifica Seminars' in Germany in 1990.
Simeona wrote three textbooks (bound seminar papers): 'Self-Identity through Ho'oponopono, Basic 1', 128 p., 'Basic 2' and 'Basic 3'.
In 1987, the English version of 'Basic 1', then in its 8th Edition, was officially translated into German by Michael Micklei and translated into French by Yvette Mauri and printed as paperback versions (Ref. Self-Identity through Ho'oponopono ,128 p.,Pacifica Seminars, 1990 and L'Identité de Soi-Même par Ho'oponopono, 128 p., Pacifica Seminars, 1990.
Now in 2020, the final 1991 versions are included in the book 'The Coronation of Consciousness' (8th edition, German and its other languages) are available at Pacifica Seminars (and 'Micklei Media') as home courses.

In the late autumn of 1990,Morrnah's last trip of lectures and seminars led her across Europe to Jerusalem, organized by Pacifica Seminars. On January 16, 1991 she returned to Germany, where she lived (finishing her mental work) in the home of Michael Micklei and Yvette Mauri in Kirchheim near Munich and died there on February 11, 1992.

In Kirchheim near Munich

It was a year in which Michael and Yvette drove more than 50,000 kilometres (35,000 miles) with Morrnah. She brought her vibration from Spitzingsee to Neuschwanstein Castle, to Lower Bavaria and parts of the Upper Palatinate - to the landscapes, the houses and roads, the lakes, rivers and mountains. Whether rain or blizzard, heat or cold, nothing could stop her, on foot or by car, cleansing this region. "Look at!" she once said sitting in the car, "there, the mammoth, how it is wagging its body." Then it was gone, its 'Earth-boundness' ended.

The Statue of the 'Lady of Freedom'

The plaster model of the 'Lady of Freedom' now resides in Washington DC in the Capitol Visitor Center, and the cast-iron statue on the round dome of the Capitol.

On March 25, 1992, on Hawaii, US Senator Daniel Akaka (D-Hawaii) delivered a moving eulogy to Simeona, which was reprinted in the Congressional Record as an obituary. He stated that it was Morrnah, who had initiated the renovation of the Statue of The Lady of Freedom plaster cast (not to be confused with the Statue of Liberty at the New York City harbour entrance).

After collecting and donating US $25,000 (valued in 2020 at around US $70,000), the disassembled and damaged model was removed from the warehouse and restored to its original condition. It was given a place of honour in the Russell Senate Office Building in early 1993, and eventually moved to the Capitol Visitor Center, where, as Akaka noted, it serves as a reminder of Morrnah Simeona.

For a picture see article 'Morrnah Simeona' at https://en.wikipedia.org